I want to tackle one of the fears that some people might have with booking indoor family photography. And that is Small House Fear. Just let me start by saying, as an indoor London Family Photographer I see and shoot in many different types of homes. From small flats, to warehouse apartments up to large, Victorian townhouses. So, I know that this city offers a huge variety of homes, and I also know that even in these big houses, it's London – the rooms can still be small. So no matter where you live, I totally get this is a fear for lots of my clients.
If you are saying to yourself 'Oh, I'd love a shoot in our home but it's just too small' – please stop now! It will not be too small. I have done entire shoots in bedrooms if that's where the light is, and they are beautiful.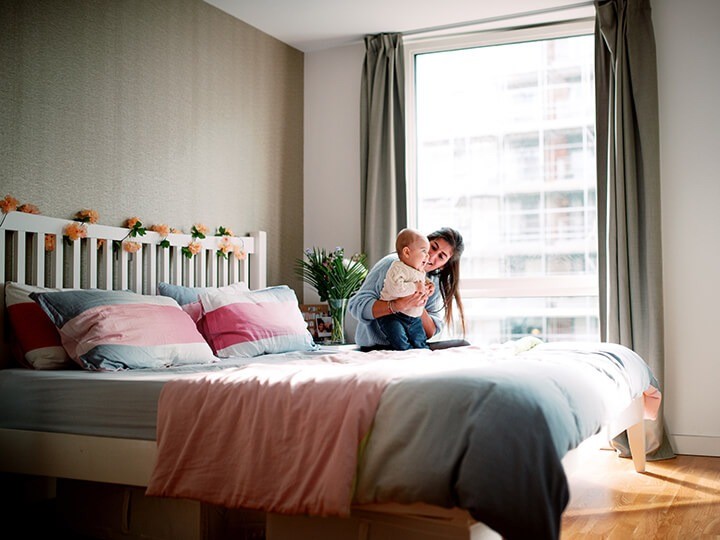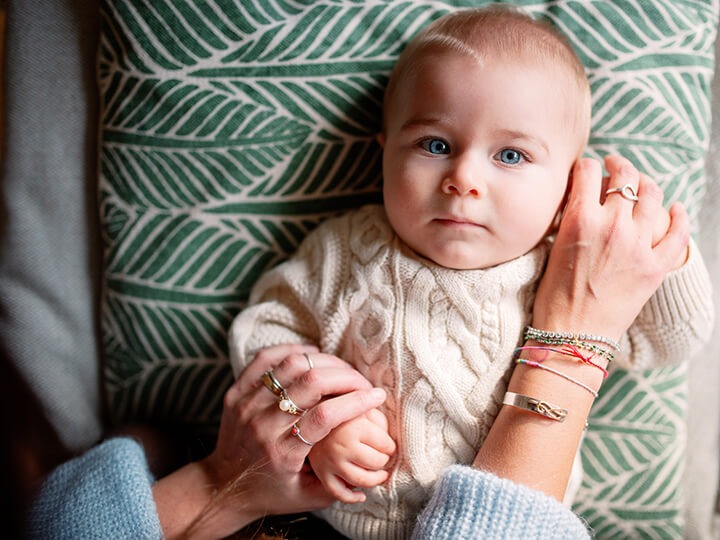 If you are paying for a professional photographer to capture your in-home session, they should have the skills, the knowledge and the experience to know how to work in more challenging areas. This is why we charge what we charge! The time that has gone into our education before your shoot is crucial to be able to provide the service we are offering and get those special photographs you will cherish forever.
That being said, of course, managing expectations is also important. If you have smaller rooms, you'll come away with a beautiful gallery of details, close and intimate portraits and pullback shots as is possible within your home. They key word here is beautiful. You can have beautiful family pictures in your home, even if its pretty cosy! I've put together just a few tips to help maximise the space you have for your shoot:
Declutter. Sometimes the space is made smaller simply by the amount of things in it! What I would suggest, for your shoot at least, is to spend some time removing little and large items that are taking up space that are not that important for you to have in your pictures. Clearing and tidying up tables, shelves and counter tops can dramatically open up a room. Move out any bulky items that don't need to be there. Simple and neat – nothing too drastic but enough to add a bit of breathing room.
Colour. Sometime colour can have a huge input. I suggest using white or light linen and bedding in the bedroom. If you have lots of strong, coloured cushion on your sofa, you can try removing a few to calm down the impact they have and any dark, heavy items (lamps, artwork, stools) could also be removed to open up some space.
Light. Light is magic. My main tip for light is to embrace it. You can do this is two ways – number one is simple, open up those curtains and blinds wide open. Let that natural light bath your rooms, and instantly they will be much more attractive! And also, talk to me. Talk to me about the light in your house. Send me some pictures of the rooms at different times of days. I am here to get the best photographs of you, your family and your home – so if we can schedule a shoot when your home is at its loveliest then let's do that!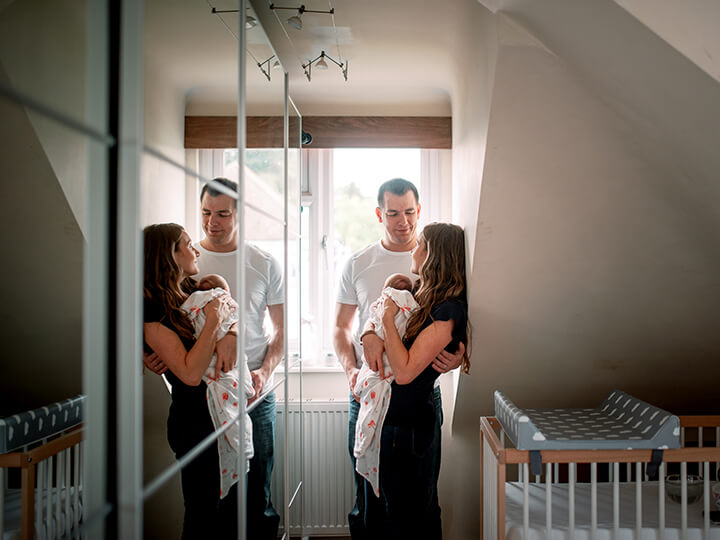 I hope these simple tricks help you feel a little better about booking an in-home shoot. I promise you, it will be worth it! If you're interested in why Family In-Home Photography is so important to me, check out this post here. Otherwise if you have any questions or want to receive my Welcome Guide, you can get in touch here.