A Healthier Banana Bread Recipe
---
Shot on Nikon F100
Kodak Portra 400
---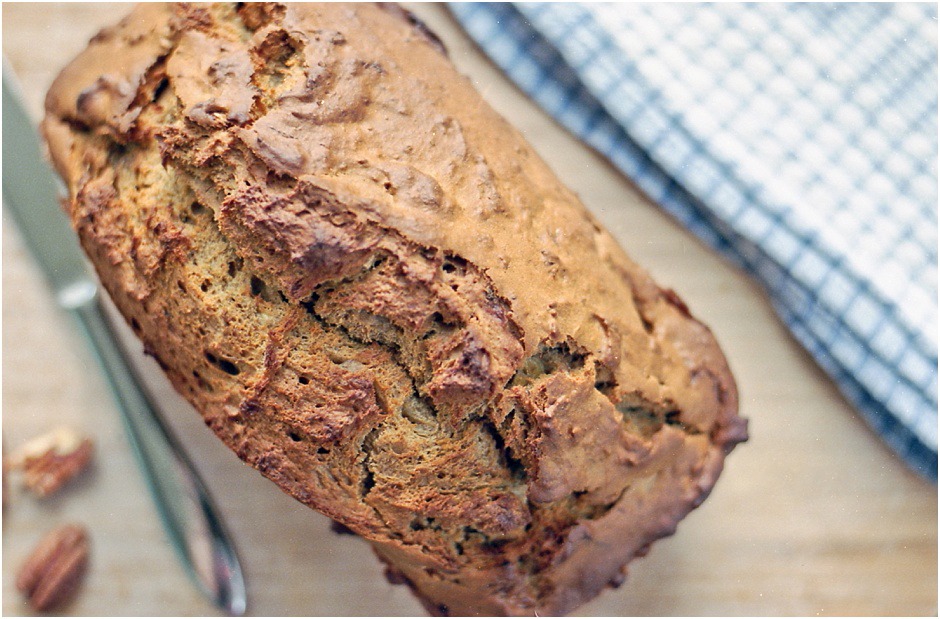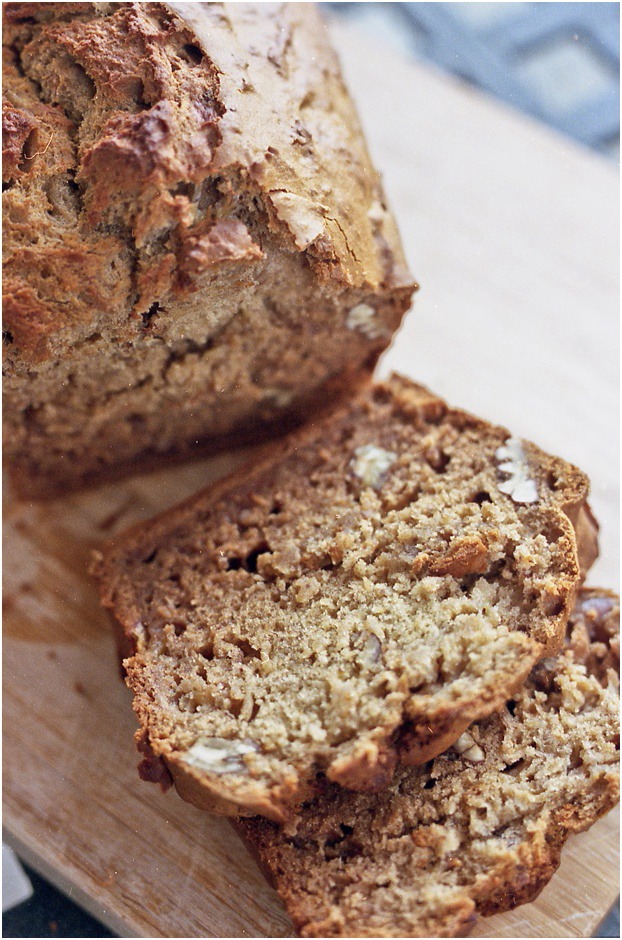 So, I'm no baker. I really enjoy baking and the results are usually pretty decent but rarely out of this world incredible.
There is one exception.
Banana Bread.
And, not to blow my own trumpet too much, buuuuttttt my banana bread is pretty awesome. Especially since it's free from refined sugar and all the sweetness comes from the bananas and dates. So a slice or two feels totally guilt free, a great quick breakfast or post work out snack.
This banana bread recipe can also be 'slimmed down' if you want to reduce the calories/sweetness/natural sugars by halving the amount of dates added. And still tastes really yummy! If you do decide to half the date quantity, just add a little extra hot water and all will be well!
Okay, here you guy guys. Enjoy baking!
p.s. You can freeze it too!
Recipe.
Yummy, squishy madjool dates. About 10 big dates. Cut up & chuck the pits in the bin
3 medium (browner the sweeter) bananas
Big handful of chopped/crushed walnuts (or other nuts can work I guess!)
Generous helping of tasty, dried coconut flakes (optional – as are the nuts!)
1 tablespoon of honey (another optional choice – but adds extra sweetness)
Teaspoon of vanilla extract.
2 x medium eggs at room temperature
4 x table spoon scoops of raw, unrefined coconut butter
Hot water (to soften the dates – about 50-60ml)
1 teaspoon of bicarbonate of soda
1/2 teaspoon of baking powder
Big pinch of salt
250 Flour! I use white bread flour. You can use whole wheat flour if you fancy.
Go cook.
Preheat your oven to 180 degrees. Grab your banana tin (by the way you can get them from The Pound Shop!) and grease or line with parchment.
Get your dates, slice 'em and remove the pits! Pop them into a bowl and pour over the hot water for them to soften (10 minutes or so). Remember, you can half the date quantity for a healthier loaf – just add an extra dash of water here.
While waiting, pour the flour into a big bowl, add the baking soda, baking powder and that generous pinch of salt. At this point I'd also slice the bananas and chop up the walnuts ready for later.
Blitz the dates, slowly at first, until you get a sweet, date puree. Now add the raw, unrefined coconut butter. Blitz again.
Crack in an egg. Mix. Crack in the second egg. Mix again. Making sure each one is well blended into the date puree.
Add the vanilla extract and mix. At this point you may want to add in honey for more sweetness. I rarely do to be honest.
Pour the whole lotta puree in your bowl of flour, and gently mix together. Grab your bananas and gently fold in. Then your walnuts (and coconut flakes if desired). You should have a lovely bowl of dough now! Don't mash up the bananas too much.
Pour your doughy mixture into your banana bread tin, and bake for about 1 hour. Maybe a tad less. Check the bread at 50 minutes (use a skewer and make sure it comes out pretty clean). Once ready, pop on the side to cool.
Once cool (or coolish!) cut a thick slice, spread on some butter, sit and enjoy while watching Frasier.