Returning to the darkroom
---
& my mini reviews of workshops by Photofusion
& The Gate Darkroom
---
As a film photographer, the reason I am so drawn to this medium is that I love the process. The process of making photographs: loading film, reading the light and getting that perfect exposure in camera. And then the developing. Sitting in the pitch black and trying to wind on those pesky negatives onto the reels (this is a great test of patience sometimes!) The measuring and diluting of chemicals – and the constant agitation.
It's hard to describe, because to many it probably sounds horrid/pointless/tedious/unnecessary. That I should go through this long process – and I've yet to see if I've even captured a picture at this point! But I love standing there, by the sink, and those tense few minutes of washing the roll and praying for something to appear. A when it does, what a feeling!
Now I can get to this point pretty comfortably – albeit slowly – but for some reason I seem bypass the last stage – the print. I either use my negative scanner or I send my film to Carmencita Film Lab (that's where all my lovely family, couples, head shots go!)
But recently I've been craving to return to the darkroom. To be involved from start to finish, and not be stuck staring at pictures on a computer screen, but to watch them come to life in the developing bath. I'm not new to the darkroom, but I wanted to step away from amateur hour and start taking it seriously.
It's time to take a step forward toward pursuing things I genuinely feel passion for, and the darkroom is something that falls under that category!
On a bit of a whim, I booked a spot on the Black & White Darkroom Printing Workshop at Photofusion in Brixton. I was hoping to walk out with more confidence, knowledge and a skill set that I could use and improve on by myself in the future. Spoiler: I was not disappointed.
The small class of five was led by master printer – Nick Jones who has lived the most fascinating life, printed some of iconic photographs and absolutely knows his stuff. A short course, running over two evenings, and designed to teach you everything you needed to make (good) printa and give you the knowledge to continue with the darkroom on your own afterwards.
The course began with a great in depth look at the pro's and cons of using a darkroom as well as detailed information about enlargers, filters and paper stocks. Turns out, there is so much to learn about using a darkroom before even stepping inside one!  Once in there, we worked on our own negatives, with constant guidance and advice from Nick – learning new tips and habits to carry forwards when working solo. After two evenings and a whole lot of information (timings, temperatures, dust removing, dodging and burning – the list goes on!) I left Photofusion with my hands full of prints I love, and a whole bunch of motivation. I highly recommend this course o anyone looking to start working in the darkroom!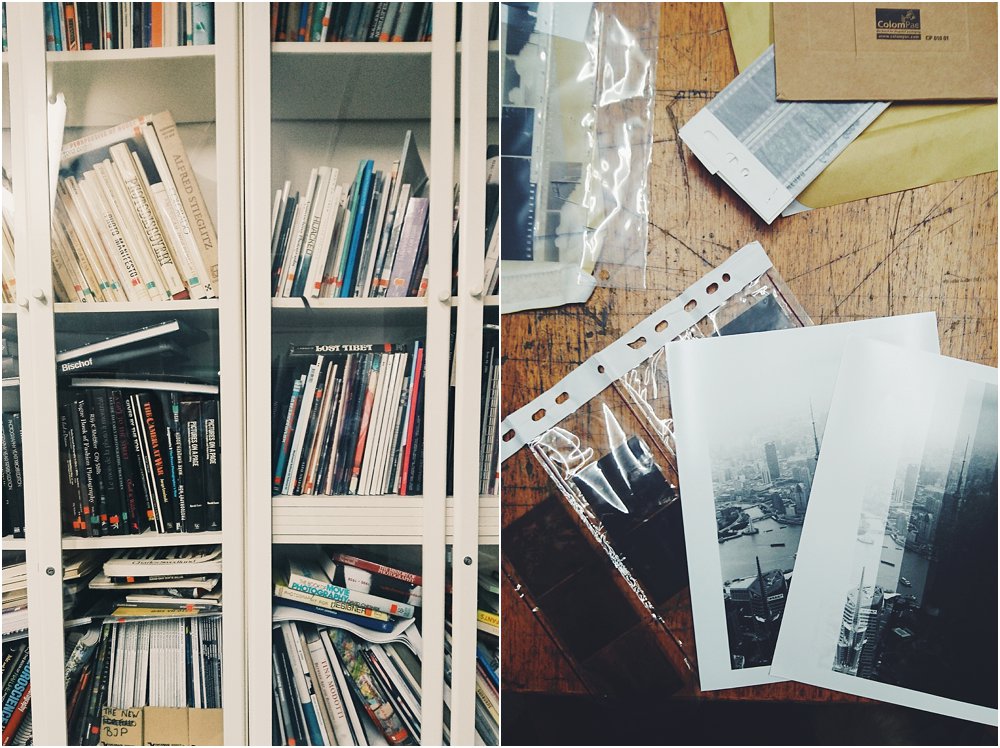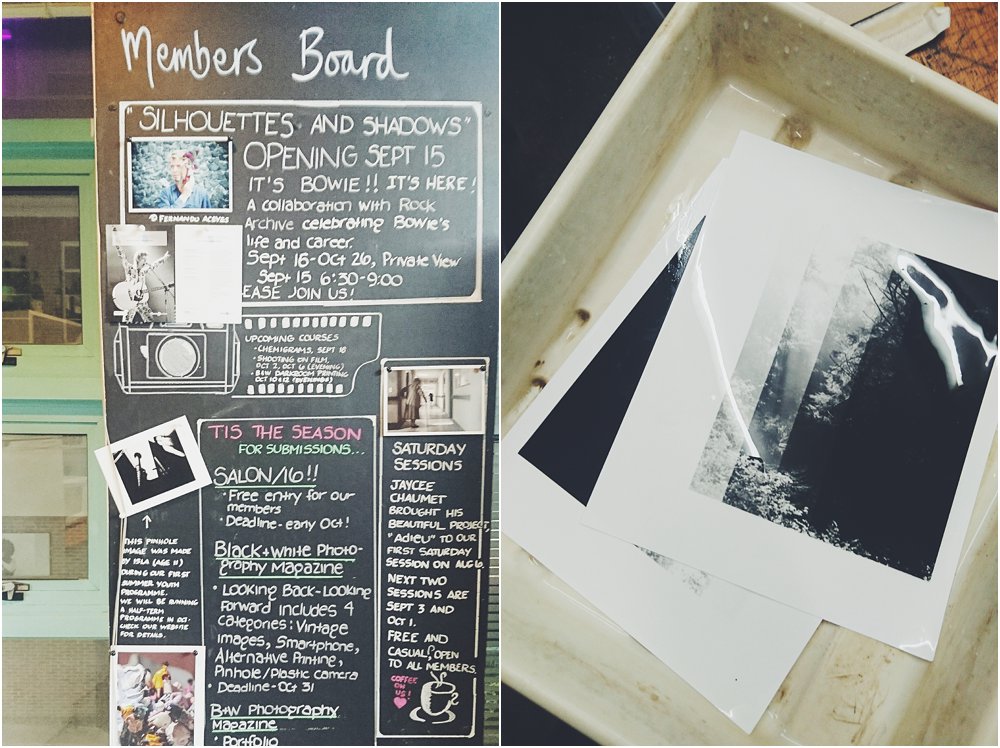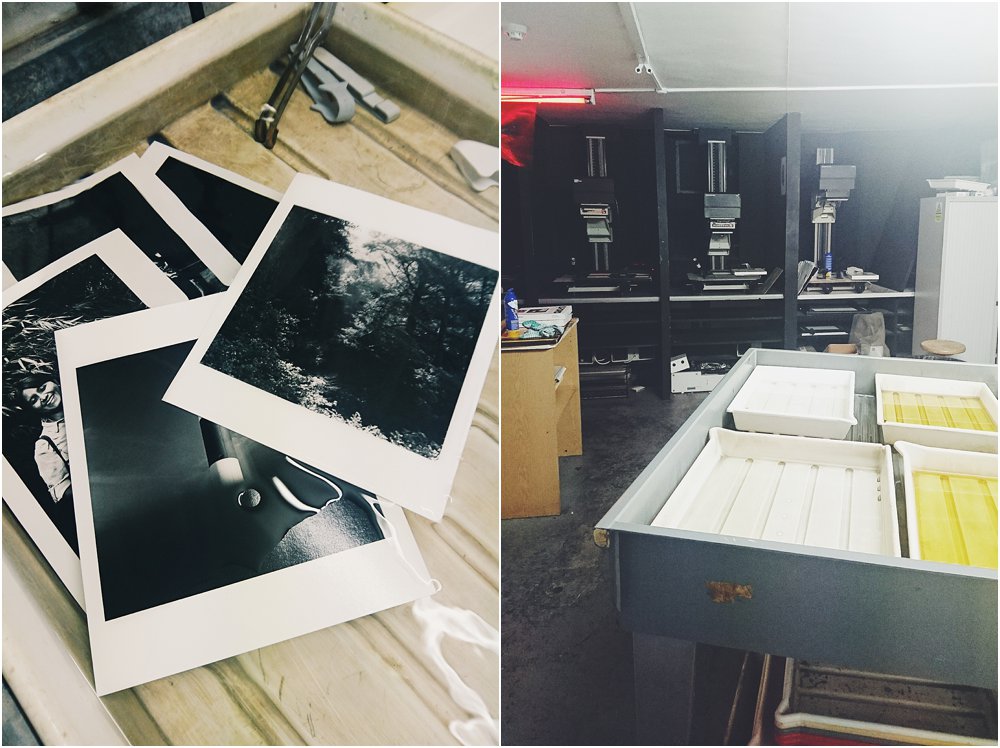 ---
Cyanotypes & Photograms
I found out about a workshop running over at The Gate Darkroom in New Cross. A introduction to making photograms – a process I did not know, but with my new darkroom eagerness – I was incredibly excited to secure my spot.
Firstly, I adore this Darkroom – it offers everything you need  – but the open access concept, and the incredible and inviting people behind are what really make it an important little artist spot in London. They have made the darkroom affordable (as there are some insanely priced ones in London!) – and by making is possible for people to get in, and by running workshops that don't break the bank – they've opened up analog photography and the process of print making to not just photographers, but other creatives who want to learn new skills. Which is clearly awesome.
I have a lot of respect and time for these guys over at The Gate Darkroom.
Anyway, back to the workshop. With a small group, one sunny Sunday, we all sat together and drank coffee, ate croissants and discussed the process of the photogram. Using objects of different density to make shapes and patterns on light sensitive paper. Make prints without a negative. It is really easy to get started with this technique, and the difficulty lies in what you want to produce. Adding, removing objects at different times of the exposure, playing with movements etc. It's really quite an interesting way to make some art, and I have my print from this workshop hanging proudly on my wall.
Since we had somehow scored a sunny day in November, I also got the chance to try Cyanotypes. This was so interesting! Using the UV rays to make prints on light sensitive paper. It was all a bit trial and error, playing around with dried flowers and guessing the length of time to leave the paper in the sunshine. But it's a process I am planning on doing a lot more fun things with! I have bought the chemicals, a brush and paper – so stay tuned for that!