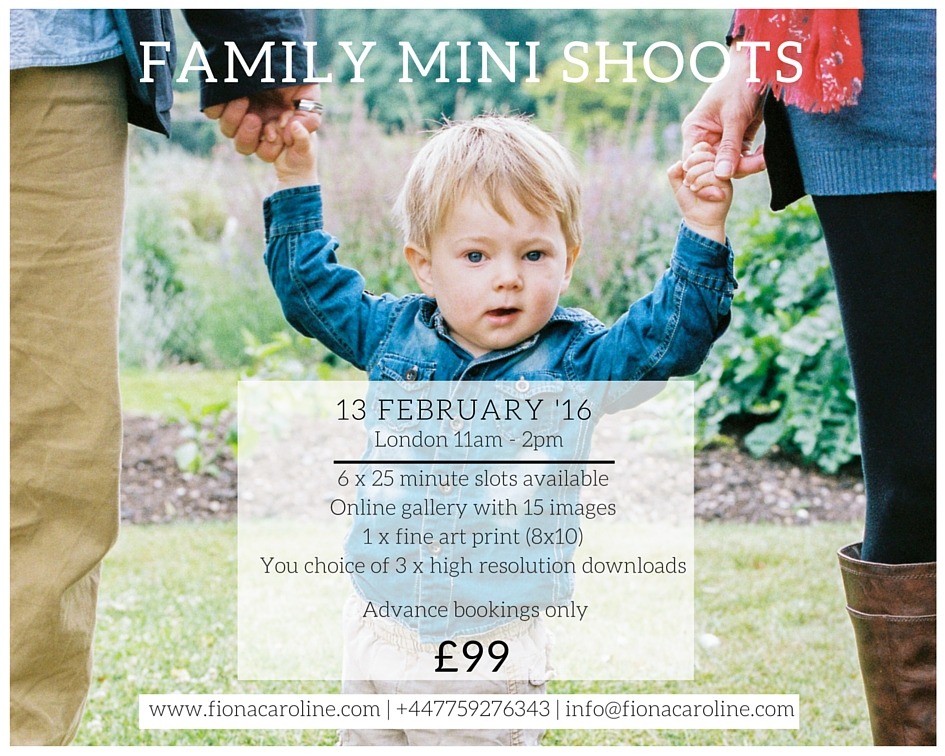 My mini shoots are a great taster of what I offer on my full family shoots and perfect for smaller families who want some new pictures. These mini sessions happen only a handful of times a year – so grab a bargain while there are spots available!
Just in time for Mother's Day, this year gift your Mum with an 8 x 10 beautiful fine art print (included in the cost), as well as 3 high resolution images you can download and print.
Why not add a gift voucher for in your gift?
On Mother's Day not only will she receive the beautiful 8 x 10 print BUT a gift voucher which can be redeemed against extra downloads, prints or products from the shoot!
What you get
A 25 minute session
An online gallery available within 14 days
3 x high resolution images of your choice
1 x fine art print (8 x 10)
What to expect
A pre-shoot telephone consultation & a helpful guide for preparing for your family shoot!
Arrive 10 minutes early and my assistant will take your details.
During the shoot we will have an awesome 25 minutes together! Once finished, you can expect your online gallery to be available within 14 days.
Your online gallery | The details
Password protected & available for 9 months
15 gorgeous, high resolution images
A pin to download 3 x high resolution images
A pin to download ALL low resolution images, which is the perfect quality for sharing on social media
Options to buy more high resolution images, beautiful fine art prints and other products such as folios & albums
13th February 2016
Central London Park (TBC)
11am – 2pm
6 spaces available
Advance bookings only – sorry I will not be able to photograph any families that show up on the day without a pre-booked time/slot!
BOOK BELOW!
[contact-form][contact-field label='Name' type='name' required='1'/][contact-field label='Email' type='email' required='1'/][contact-field label='Your desired time slot' type='checkbox-multiple' required='1′ options='11:00,11:30,12:00,12:30,13:00,13:30'/][contact-field label='Comment (Family Size %26amp; any other details or questions you may have!)' type='textarea' required='1'/][/contact-form]